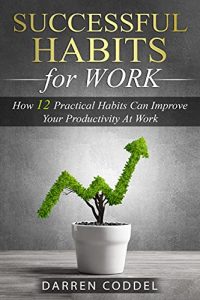 Dramatically Improve Your Relationships at Work, Boost Your Productivity and Become Recognized as a Reliable High-Performer in Your Workplace!
Whether you're new to the working world or someone who is a veritable veteran, it is common to feel overwhelmed, overtired and overworked. If you are seeking solutions to these dilemmas or want to learn how to rise up the ranks in your place of work, then this book is for you.
In Successful Habits for Work, Darren Coddel distills success in the workplace into twelve powerful and actionable habits. By the end of this book, you'll master the skills and habits you need to excel and become an invaluable member of your workplace.
In Successful Habits for Work, you're going to discover:
-How to be extremely resourceful, form valuable connections and become the oracle for your colleagues
-7 simple ways to keep your workspace tidy for improved productivity and confidence
-An underrated workplace hack that will generate an incredible amount of goodwill for yourself
-7 foolproof self-care tips to help you get rid of stress, cultivate a trustworthy aura, and improve productivity
-6 effective ways to handle criticism without taking a self-esteem hit
-A dead simple way to differentiate between constructive and destructive criticism
-The intuitive 7-step method for effectively prioritizing your tasks and combating work overload and stress
…and much more!
Brimming with profound insights and highly actionable advice, Successful Habits for Work is a game-changing workplace playbook that will help stop being relegated to the sidelines, excel at your work, and adopt the habits of successful employees and excellent team players! Free on Kindle.