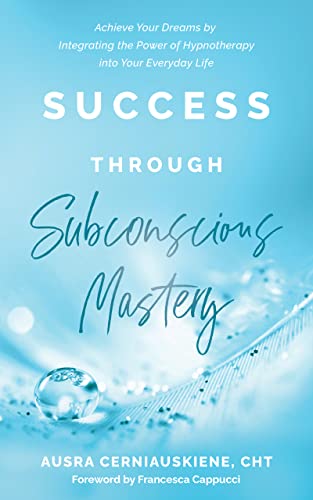 A life well lived is one that embraces change and aspires to reach new heights!
Change means growth. Growth happens when we recognize the time is right and we put forth the effort.
In Success Through Subconscious Mastery, Ausra Cerniauskiene, CHt, provides a roadmap for using the power of hypnotherapy as the foundation for achieving your goals and reaching your dreams.
Inside, you will find:
Inspiration
Motivation
Tips and techniques to help you on your journey
Reality checks
Stories that will resonate with you
Examples of people who have transformed their lives for the better
And so much more!
Equipped with the strategies and techniques described in this book, you'll discover how to intentionally guide your inner mind toward your deepest desires with a greater sense of conviction than ever before.
Most importantly, you'll come to recognize the unlimited power you have within you to create your own exceptional future.
It's time to step into who you are truly meant to be, and Success Through Subconscious Mastery will show you the way. $7.89 on Kindle.