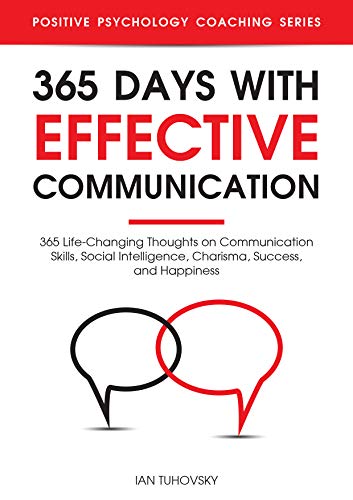 Would You Like To Improve Your Communication Skills?
Are you and your partner always having the same fights? Do you feel unable to get your point across? Are you feeling nervous every time you have to give a speech or make a presentation?
You Are Not Alone!
There's no shortcut to effective communication. Just like any other skill, mastering communication takes time and practice. This game-changing communication book will give you the blueprint, all you have to do is invest time in yourself.
Are You Ready?
365 Days With Effective Communication: Change Your Mindset & Transform Your Life In A Year!
Ian Tuhovsky, the best-selling author of multiple communication books, self improvement books, and mental discipline books, has created a simple, yet highly-effective communication skills workbook that will help you reach your goals faster with fun and easy daily exercises.
There Are 365 Reasons To Start Reading "365 Days with Effective Communication". Here Are Just The Top 5:
Re-Discover Yourself: Answer Deep Questions And Revaluate Your Goals, Needs, And Dreams
Master The Art Of Body Language: Look And Feel More Confident Than Ever
Understand The Importance Of Dialogue: Control Your Tongue, And Handle Your Anger
Improve Communication: Ask The Right Questions, And Use Emphasis & Volume To Get Your Point Across
Develop Meaningful Relationships: Establish Boundaries, Learn How To Say "No", And Stop Having The Same Fights
And That's Not All!
Every single day, you will be able to challenge, reinvent, and improve yourself – one exercise at a time. Broken down into easy-to-follow categories (weeks), you will be able to work on multiple conversation and communication skills, fine-tune your skillset, and improve both personal and professional relationships.
What Are You Waiting For? $0.99 on Kindle.