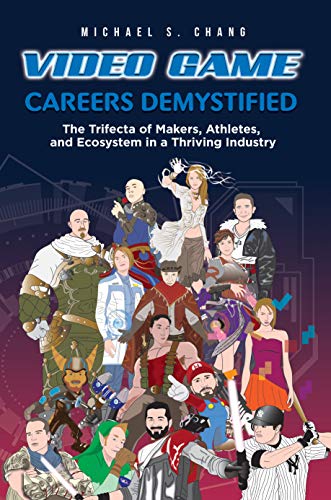 Written by a video game marketer and consultant who had worked in both AAA game development and indie game studios for over a decade.
Come experience the thrills and the ups and downs of this incredible industry – with an emphasis on first-hand accounts of what IT'S REALLY LIKE to develop, launch, and publish video games.
Hear first-hand accounts and WORDS OF WISDOM – about how THEY got their starts in the video game industry – from celebrated experts who have worked on such iconic games like Pac-Man, Ultima, RuneScape, Dark Age of Camelot, Candy Crush Saga, DungeonKeeper, Dragon Age, Star Wars the Old Republic, ABC Mouse, Halo, Pieces of Flair, Real Racing, FIFA Ultimate Team, and many more.
Together with a framework that allows a young gamer to look inside one's self; explore one's unique set of strengths, weaknesses, talents, and values; decide if this industry is right for one's self, how to stand out, and how to get started…
This book seeks to delight, educate, and inspire the readers by answering three sets of questions:
1. WHAT IS IT REALLY LIKE to create and publish games?
2. Does THE INDUSTRY OFFER VIABLE OPPORTUNITIES for young people? What about teens who are not STEM-inclined or artistic?
3. SHOULD EDUCATORS AND PARENTS FOSTER, CULTIVATE, OR CURE such "dreamers"? And if the former, How? Free on Kindle.