How to Talk to Anyone at Work by Carl Wolfe sets out, if not to cure, then help us learn to live well with social anxiety and awkwardness in the 9-5.
Each chapter explores specific concepts, like body language or the art of small talk, the lessons lightly worn. Wolfe's gently conversational tone invites ease, not self-criticism, while the book's structure builds to a holistic understanding of effective communication.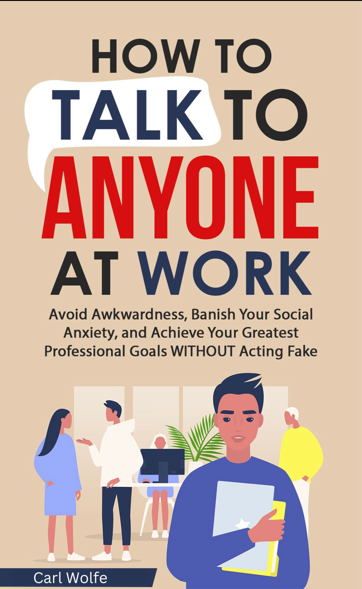 Highlighting the importance of authenticity and vulnerability, Wolfe also provides numerous case studies and the personal insights of a 'recovered awkward person' to demonstrate the effectiveness of his methods. Though many of the concepts, like using voice effectively and active listening aren't unique, they're presented in a practical, easy to digest form. The end goal: building relationships and establishing rapport with colleagues and clients.
Wolfe's book offers folksy wisdom (with a dash of neuroscience) to all professionals, regardless of their level of experience and ventures into the murky waters of online networking, instructing on the use social media platforms like LinkedIn to build your professional squad of mentors, consultants, connections and cheerleaders. Wolfe also provides a guide to the challenges and pitfalls remote employees and freelancers face. With remote work becoming increasingly common, it's essential to learn how to communicate in virtual environments, too.
From IT to healthcare to sales, How to Talk to Anyone at Work can equip a broad range of personalities, working in almost any industry to hone their softer skills.